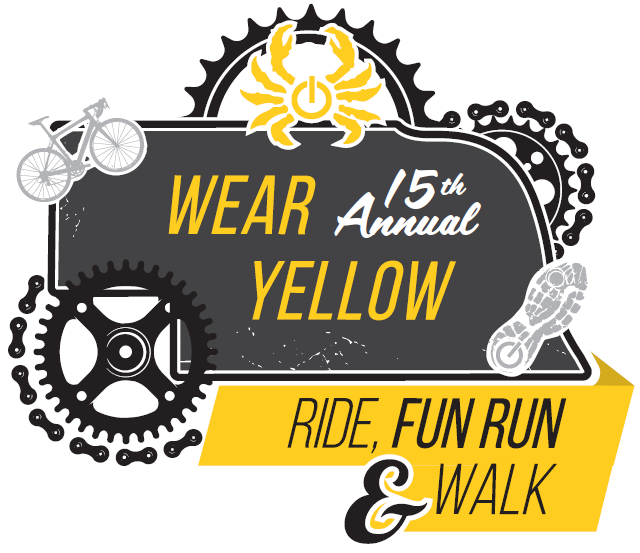 514TH ANNUAL WEAR YELLOW RIDE, FUN RUN & WALK
Wear Yellow Nebraska will be hosting the 15th Annual Wear Yellow Ride, Fun Run & Walk on Saturday, May 12, 2018 at the Strategic Air & Space Museum, Ashland, Nebraska.

Online registration will be open until Midnight on Saturday, May 6, 2017. You may still register for the event the day of, or at any of the packet pick up events Tuesday, May 9th - Friday, May 12th. No refunds will be given after May 1, 2017 and this is a rain or shine event.

Wear Yellow Nebraska is a local organization providing service, support, and community for Nebraska's cancer survivors. We organize the Wear yellow Ride, Fun Run & Walk to fund the Wear Yellow Cab Ride program and other initiatives that support our mission and truly make a difference for cancer survivors.

Please take some time to look around the site. If you would like to register for the 15th Annual Wear Yellow Ride, Fun Run & Walk, click the Run/Walk Registration button at the top right to start the process

Your registration fee will provide two cab rides to a fellow Nebraskan in the fight against cancer who does not have adequate transportation to or from their treatments through our Wear Yellow Cab Ride Program. That's a pretty awesome feeling to know you can impact someone in such a significant way!

Thank you to the 650 registered participants of the 14th Annual Wear Yellow Ride, Fun Run & Walk. From your support we reached and exceeded our goal to support our Wear Yellow Cab Ride Program for 2017 an are happy to announce we have launched the program in Lincoln, NE!
Teams and Walkers
Select a Team:
Top Participants
Nothing yet